In this post, the spotlight is on Peter Metcalfe, a December 2017 graduate with a degree in history. While here, Peter was a fixture in the library, regularly commandeering a carrel in the Quiet Room. We were fortunate enough to have him back for an elongated visit this summer during which he kept staff busy collecting more than his fair share of books. For now he has flown back "home", but not before Circulation Specialist Rebecca Lopez sat him down for a brief interview.
RL: What is your favorite memory of the library while you were here?
PM: The people. The library staff. They were so kind and supportive of me during my two years of doing the degree here.
RL: What is your favorite memory or experience here at Flagler?
PM: Teaching three or four students how to fly and seeing them move on towards careers in aviation.
RL: If you could give any advice to other Flagler students, what would it be?
PM: To be constantly thinking that this is just a stepping stone. Thinking outside the narrow demands of Flagler College and where they might journey next.
RL: What are your future plans?
PM: I begin graduate school at Warwick University.
RL: What are you getting your master's in?
PM: A master's in history.
RL: What is one thing most people may not know about you?
PM: That I was an officer in the Royal Air Force.
RL: When was that?
PM: When I was 19. A long time ago.
RL: Did you like it?
PM: Yes, but I failed on fast jets. That then meant that I did the other thing and went to university. I did things a bit…You have a poem in America by Robert Frost "The Path Not Taken." Well, my path has been very not taken.
RL: A squiggly path, huh?
PM: All around, yes. So normally people go to university first and then go to the armed forces, but I did it the other way around. But it really has made no difference. The people who've trained me as I've gone back in to flying, ex-RAF people, I have done now more flying than they have.
RL: That's pretty cool.
PM: So it's worked out for the best as you might say.
RL: It always does.
PM: So you've got to have faith and belief that if you keep going and you keep taking opportunities and looking at things with an open mind the adversities that you meet will be put into perspective.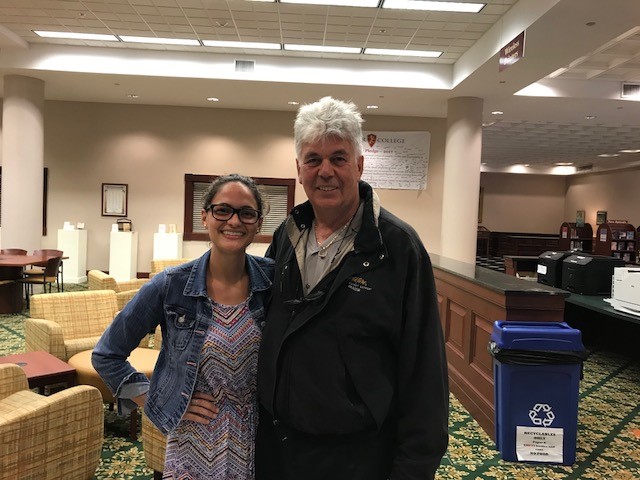 We will miss Peter and are happy to hear he plans to make a return visit in the near future. Best of luck to you on your next adventure, Mr. Metcalfe!