My name is Megan Lepak and I am the Proctor Library's Special Collections work-study student. My direct supervisor is Miss Katherine Owens, who has personally built Flagler's Special Collections from the ground up starting in 2012. I, on the other hand, only started working with Special Collections in the Fall of 2018, during my first semester at Flagler College.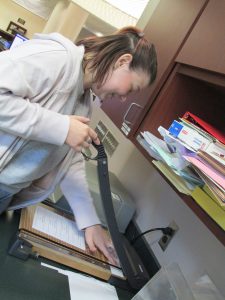 As soon as I joined Special Collections last October, I was immersed in work. Miss Owens, the Fall 2018 Special Collections Intern, Madison Theodore, and I were busy preparing for the "Beautiful Books" event. All three of us researched and wrote about some of the most extravagant books in the collection. This was a great first experience in Special Collections because it taught me the basics of what Special Collections is, what to look for in books, and how to cooperate with the other Special Collections workers in order to host interesting events for the campus. This semester I had the great honor of helping to coordinate and plan the Meet the Collections and Curators event "Who Has Published at Flagler College?" which served to demonstrate how many of Flagler's faculty and staff have published, as well as the portion of Special Collections that is dedicated to Flagler's authors. As a person who has always been interested in historical artifacts and information, as well as presenting it to the public, I have enjoyed the work from the very beginning.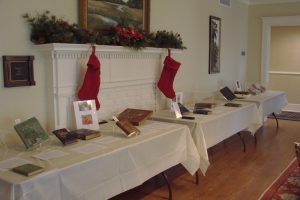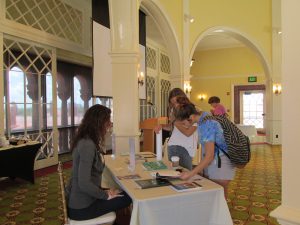 Over the course of these two semesters, not only have I had the opportunity to get involved with the Meet the Collections and Curators Events co-sponsored by Special Collections, but I have also had the opportunity to participate in more routine tasks. Most frequently, I have worked with the organization of the books in Special Collections, all of which are carefully cataloged and stored. Another duty of Special Collections is to be available to answer questions and provide access to the books during reference hours on Friday afternoons. Please stop by next semester if you have a question! The Robbins Room is in the process of being converted into Special Collections, and currently, it houses reference hours and a Book of the Month display. I have chosen, researched, and written about a few of these books and their relevance to modern life. For example, I wrote about Edgar Allan Poe's poetry in January for the celebration of his birthday, and in February I displayed a biography of Abraham Lincoln for the celebration of Presidents Day. Finally, I have been able to attend some off-campus meetings with the St. Augustine Archival Society. In doing so I have the opportunity to visit historical organizations (such as the City Archaeologist's Office and the St. Augustine City Clerk in the Lightner Complex) and learn about their practices in diligently preserving the history of St. Augustine.
There is much to love about working in Special Collections, however, my favorite aspect of the job is exhibit design and any task that is highly visible and interactive for the public. I aim to be a museum curator in the future because I believe that the display of historical and artistic artifacts is a wonderful way to make such material and the context around it more approachable and memorable for visitors. Therefore, I am greatly excited when Special Collections allows me opportunities with such. Designing the Spring 2019 display about children's books around the world, in the front of the Proctor Library, allowed me to try my hand at exhibit curation and design by choosing the theme, selecting the books to be shown from the special and general collections, and planning the display set-up with a solid narrative. All of the Meet the Collections and Curator Events have also allowed for exhibit curation style tasks (choosing a theme, selecting artifacts, and creating descriptive labels). I am practicing skills that will come in handy in the future, as well as enjoying my time here.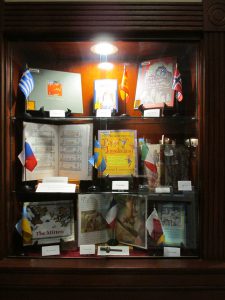 My least favorite part of the job here in Special Collections is not the work, but rather concern for the safety of the objects in the collection and a fear that we are not getting enough recognition. For example, when handling a deteriorating book, it is wonderful to get to hold a piece of history, but there is a weight over your head of the responsibility to keep this object safe. The truth is that these responsibilities and worries are what this job is all about; I have to opportunity to care for, protect, and share these books as much as possible.
Before college, I had worked mostly with collections management at Sarasota County Historical Resources in the context of general objects. Last semester, I worked at the St. Augustine Historical Society's The Oldest House working with their collection, Objects Collection. In Special Collections, I have been able to learn about working with books, as well as techniques for collections management. All these experiences will help me with my goal of becoming a museum curator one day. In the meantime, I look forward to continuing this enlightening experience as long as I am at Flagler College, and I hope to have the opportunity to train whoever will follow in my footsteps. I am very grateful for all the opportunities and guidance of Miss Owens, as well as the help of all the Library Staff.
If there is anything about my job that you would like to hear more about, please let me know, or come visit me during reference hours. I am happy to share!