Special Collections: Home
Special Collections Home
About the Collections
Internships in Special Collections
Flagler College Archives
Featured Collections: Beautiful Books
This is the first
Digital Exhibit
for Special Collections, recreating two 2018 physical exhibits in order to share 120 books with everyone. There are multiple pictures included for each book, physical details, and supporting documents.
St. Augustine Fiction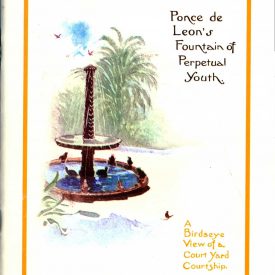 This collection is unique to Flagler College and focuses on adult novels and children's books with the action taking place here completely or partially.
This link
will take you to our guide to explore all the books in the St. Augustine Fiction Collection.
Faculty/Staff/Alumni Books
We collect the books written by Flagler College faculty, staff, and alumnus. Donated and signed copies are preferred. If donating is impossible, we are happy to support you through purchasing a copy. Please fill out the form below and email or Inter-Campus Mail the form to the Special Collections Librarian.Articles and poems in magazines, literary journals, or scientific journals are not collected. Alumni publications are accepted only after consulting with the Special Collections Librarian.
Mission Statement
The Special Collections at Flagler College is committed to giving proper care to old, rare, valuable, or institutionally identified subject-specific books, and to educating the Flagler College community on the critical importance of studying, caring for, preserving, and the research value of these distinguished materials.
What is Special Collections?
The items in this department are kept separate from the regular collection due to age, rarity, fragility, edition status (1st editions), or added considerations (signed, prior ownership by someone important, affiliation to Flagler College or St. Augustine). Not all books in Special Collections are rare. Some books were donated expressly to be treated with the extra care a special collections department implies. Our current size is 1,700+ books, maps, magazines, newspapers, pamphlets, letters, photographs, artwork, and several pieces of ethnic clothing.
This collection is distinct from the Flagler College Archives which collects and preserves materials about the College, the Hotel Ponce de Leon, Henry Flagler and his family, Henry Flagler's enterprises, and photographs and documents related to St. Augustine's history.


Access
The Special Collections Reading Room is now located in the Robbins Reading Room, L-115. Spring 2020 reference hours are: Mondays 9am - 10am, Tuesdays 6:30pm - 7:30pm, Wednesdays 2pm - 3pm, and Fridays 10am - 11am.
All other times are by appointment only. Please send Katherine Owens an email (kowens@flagler.edu) with your request.
Special Collections is a non-circulating collection; the items may not leave the building.
Professors or students needing long-term access is not a problem. The items will be pulled and kept to one side in Miss Owens's office for your use.
Donations
Special Collections welcomes donations! We are especially interested in items that coordinate with one of our identified areas of collecting as listed under "About the Collections."

If your item(s) are more contemporary or does not match one of our collecting areas, please review our Donation Policy for the regular Circulating Collection and contact our Collection Development Librarian, Jessie Rutland, jrutland@flagler.edu, about donating to the Library. If you are interested in donating items related to the College, Henry Flagler, or the Hotel Ponce de Leon to the Flagler College Archives, please contact the College's Archives Specialist, Jolene DuBray Woodward, jdubray@flagler.edu.