Howdy! Welcome to the Music Minors guide of Library Resources.
This is not a guide for research on a particular subject. For specialized assistance please visit a librarian at the Ask Here Desk. This guide gives suggestions on places or types of searches to help you find information regardless of topic. The tabs to the left will get you started.
What to make an appointment for one-on-one help? Please contact your liaison music librarian, Katherine Owens, at kowens@flagler.edu or 904-819-6485.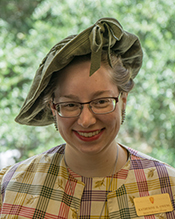 ---
Our thanks are due to Jessica Black who interned with us in fall 2014 and created the first version of this help guide. Elements of her work have been carried over into this, the second, version of the music help guide. We are happy to report that Jessica is working towards her Masters in Library Science!
Title searching in the library's catalog requires you to enclose your title in quotation marks. For example you could search, "Music in the Medieval World" or "Meet the Beetles". When searching for an exact title leave off the 'the,' the 'a' and the 'an' at the beginning of the title.
Author searching is the same, only invert the composer or musician's name: "Beethoven, Ludwig" or "Presley, Elvis". In the library world, we organize people by their last name, not their first name.
Subject searching is a more targeted search than just typing words into a search bar. Subject terms are "official keywords" for a person, place, event, and/or historical time period. To find subject headings on your subject go to the Library of Congress LC Subject Headings search page. Once you find the official keywords to find books on your topic, you are able to use them in our catalog, for example "Church music Greece Russian Influences" or "Hip hop in motion pictures".
Just because we no longer have an advanced search feature does not mean you cannot create your own compound search. For example, you are doing a search on Mozart: Mozart, Wolfgang Amadeus and classical music"; or Mozart, Wolfgang Amadeus not opera. However, a compound search that includes a specific publication date range can now only be conducted from the results page of your search.
This is the alphabetical list of the databases most useful to the music minor:
Not all websites are equal! This list is not complete, but representative of some websites that provide access to or information on music genres, musicians, or songs.
AllMusic
Resource for exploring information about albums, bands, musicians, and songs.
Billboard
Provides daily music news, charts, music downloads, and artist features for rock, pop, country, rhythm and blues, jazz, world, and hip-hop.
NME
New Musical Express
PD Info: Public Domain Information Project
Any song or musical work published in 1922 or earlier is in the public domain in the US.
Want a quick overview of the sound of different time periods in Western music? Pick the time period you are interested in, or listen to the entire progression!
Part I (Medieval to Renaissance)
Part II (Early Baroque)
Part III (Late Baroque)
Part IV (18th Century Classical)
Part V (Wolfgang Amadeus Mozart) 
Part VI (Ludwig van Beethoven)
Part VII (19th Century Classical into Romanticism)
Part VIII (Early Romanticism)
Part IX (Romanticism)
Part X (Romanticism, cont.)
Part XI (Late Romanticism)
Part XII (Late Romanticism, cont.)
Part XIII (Late 19th Century into 20th Century Romanticism)
Part XIV (unavailable)
Part XV (Early 20th Century)
Part XVI (Early to Mid-20th Century, cont.)
Part XVII (Mid-20th Century)
Part XVIII (Mid-20th Century, cont.)
Part XIX (Mid- to Late-20th Century)
Part XX (Late-2oth Century into the 21st Century)
The Theatre Arts department used MLA as their citation guide of choice. As a part of this department, music minors will also need to abide by the rules of this citation style.
Here is a link to the current (8th edition, 2016) MLA Cheat-Sheet Guide provided by the Proctor Library: MLA Cheat Sheet.